Recipes by Luigi F. di Biagio
BEAN AND CHICKPEA SOUP (Serves four)
250 g (8.8oz) dried chickpeas 50 g (1.8oz) dried beans
3 canned whole tomatoes
1 small onion
1 carrot
1 tsp powdered turmeric 1 whole chili pepper
2 bay leaves
2 stalks celery
1⁄2 tsp dried oregano extra virgin olive oil
salt
Soak the beans separately in cold water overnight. The next day, wash and boil them separately with the bay leaves and celery. Finely chop the onion and carrot and sauté them in two tablespoons of oil. They should soften, but not brown. Sprinkle in the turmeric, add the sliced chili pepper and crushed tomatoes. Adjust for salt and cook for 10 minutes over low heat. Add the beans and 700 ml (about 3 cups) of their cooking liquid; continue cooking with the lid partly covering the pot for 15 minutes. Stir in the oregano. Serve the soup hot or warm with a drizzle of oil and toasted bread.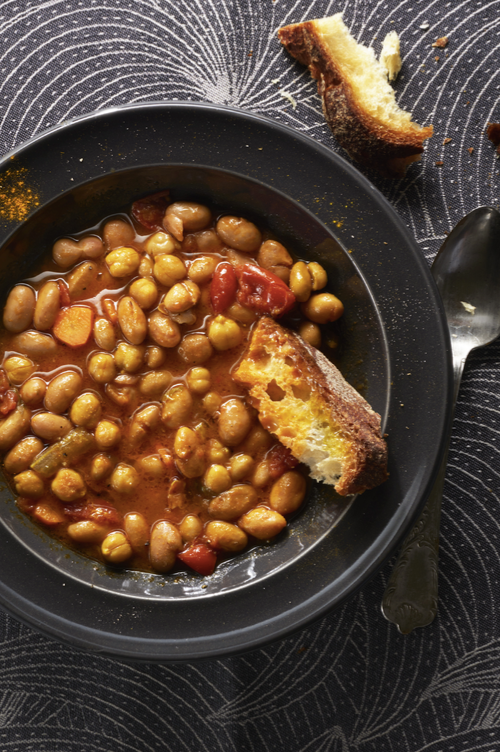 VEGETABLE CALZONE (Serves four to six)
400 g (14oz) flour
10 g (3 1/2 tsp) active dry yeast 1 kg (2.2lbs) Swiss chard
200 g (7oz) pitted black olives 200 g (7oz) Provola cheese, cubed
1 small chili pepper, minced 1/2 tsp powdered turmeric extra virgin olive oil
salt
Sift the flour and pour it on a pastry board with a pinch of salt. Stir in two tablespoons of oil and the yeast dissolved in warm water. Use enough water to make a soft and elastic dough. Cover with a tea towel, and set aside for one hour. Boil the Swiss chard in salted water. Drain, squeeze out the excess water, and chop. Mix two tablespoons of oil, the olives, chili pepper, turmeric and Provola cheese and set aside to let the flavors combine. Grease a pan with oil. Roll on the dough into two thin sheets. Use one to line the pan. Add the filling and cover with the remaining dough, pinching the edges closed. Brush with oil, sprinkle with a bit of turmeric and bake at 180 °C (350 °F) until golden.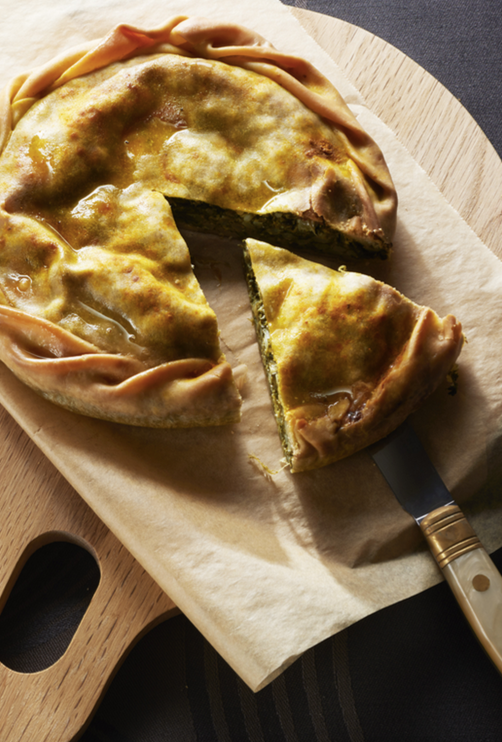 RUSTIC MEATBALLS (Serves four)
400 g (14oz) of ground white meat
5 zucchini
1 onion and 1 carrot
50 g (1.8oz) grated Pecorino cheese 1eggand1eggyolk
2 tbsp breadcrumbs
1 bunch parsley
grated lemon zest
1 tsp powdered turmeric 200 ml (7oz) vegetable stock flour
extra virgin olive oil
salt and pepper
Chop two zucchini into small pieces and boil in a little salted water; drain and mash with a fork until smooth. Add the egg, ground meat, mashed zucchini, Pecorino cheese, breadcrumbs, chopped parsley, salt, and pepper to a bowl. Mix well. Dust your hands with flour and roll the mixture into medium-sized balls. Fry them in oil. Cut the remaining zucchini, onions and carrots into cubes, and brown in three tablespoons of oil. Mix a teaspoon of flour with the turmeric, sprinkle it over the vegetables and add the stock. Cook for 15 minutes over low heat, and add the meatballs and lemon zest. Continue cooking for five minutes and serve warm. The dish can be served with basmati rice or bulgur wheat.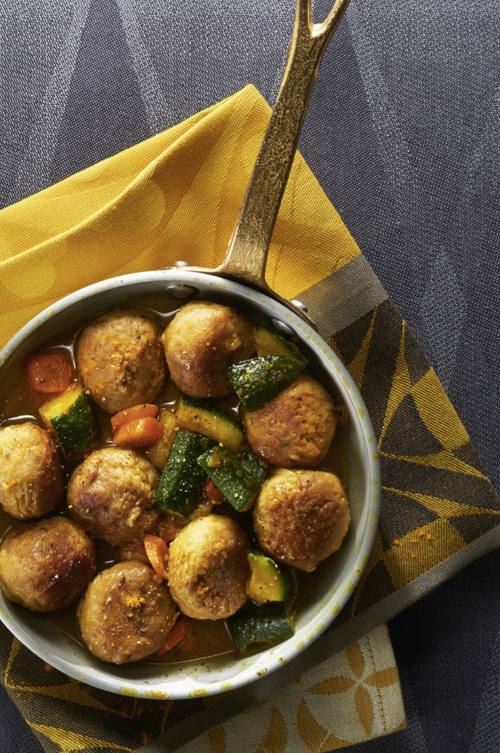 CHOCOLATE AND PINEAPPLE UPSIDE-DOWN CAKE (Serves six)
100 g (3.5 oz) bittersweet chocolate, chopped
60 g (1/2 cup) cake flour
60 g (1/2 cup) almond flour
60 g (1/4 cup) sugar
3 eggs
50 g (3 1/2 tbsp) butter
1/2 tsp turmeric
16 g (2 tsp) baking powder
8 slices canned pineapple canned in heavy syrup
a pinch of salt
Melt the chocolate with the butter, sugar and turmeric in a bain-marie, stirring constantly. Remove from the heat, stir in the almond flour and let cool. Separate the eggs. Add one yolk at a time, whisking constantly; add the sifted flour and the baking powder. Whip the egg whites to stiff peaks with a pinch of salt and gently fold into the mixture. Refrigerate for 15 minutes. Butter a cake pan and line with parchment paper. Neatly line the bottom of the pan with the pineapple slices and cover with the chocolate batter. Bake at 180 °C (350 °F) for 50 minutes, using a toothpick to check when it is done. Let cool before turning out onto a serving dish.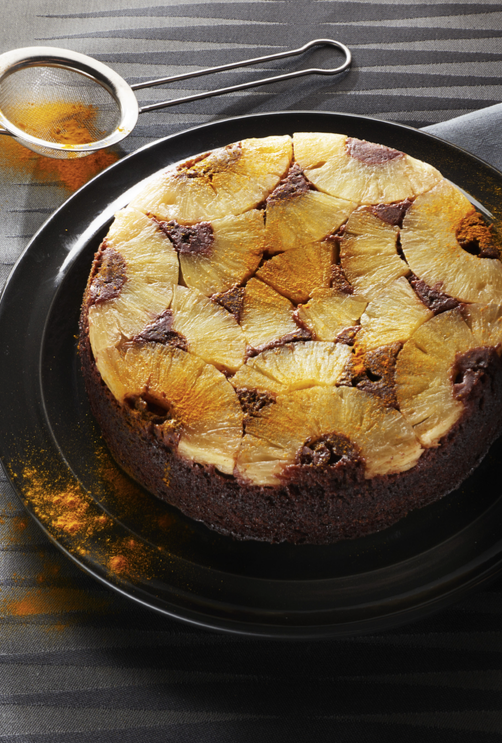 Source: Huffingtonpost